Dahal's attempt at keeping three major powers happy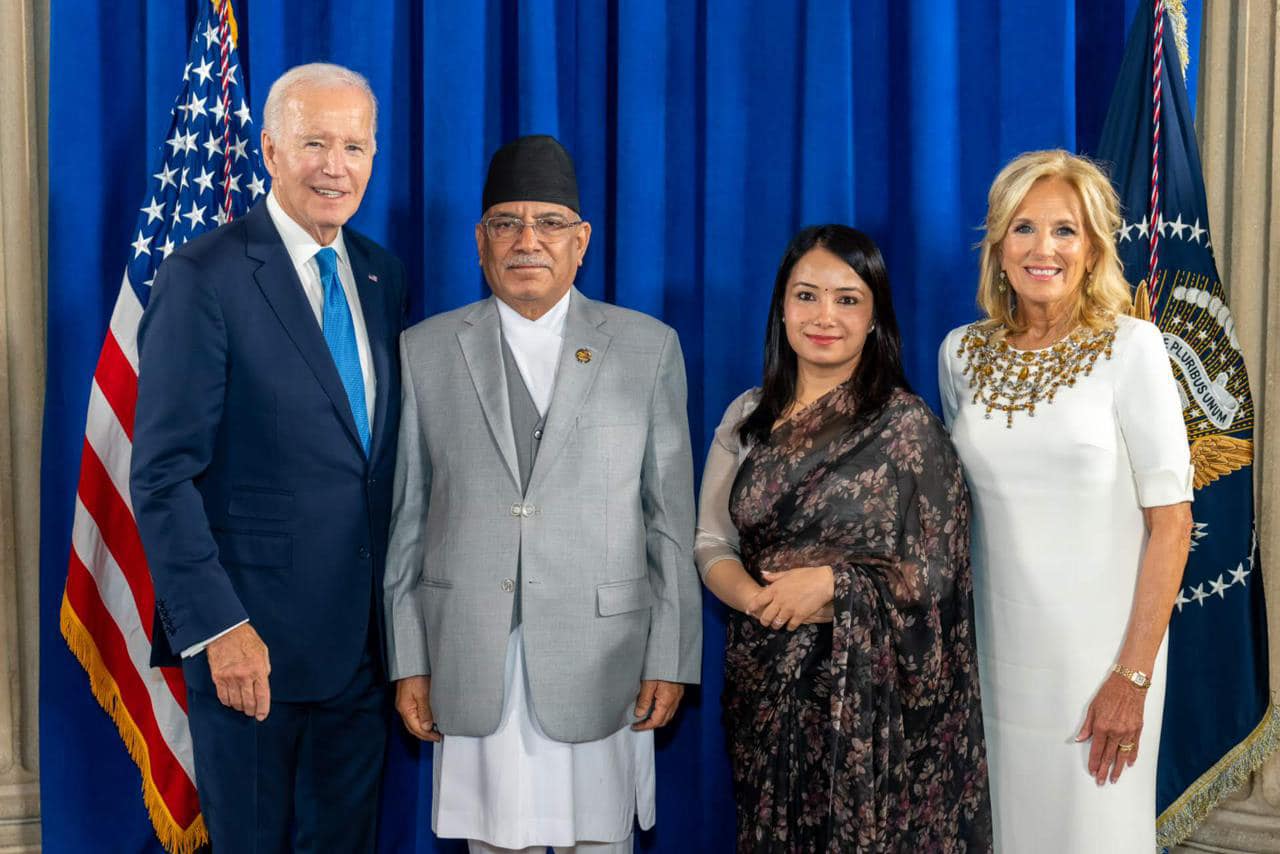 Nearly six months after coming to power, Prime Minister Pushpa Kamal Dahal embarked on his first diplomatic tour in May, with New Delhi as his inaugural stop.
In July, Dahal visited Italy to attend the United Nations Food Summit, and in the second week of this month, Dahal flew to New York to participate in the 78th General Assembly of the United Nations. There, he rubbed shoulders with the giants of global politics, including the likes of US Secretary of State Antony Blinken.
After attending the UN gathering, he jetted off to Beijing for an official visit to Nepal's northern neighbor. This visit was a significant milestone for Nepal, marking the continuation of a delicate balancing act—maintaining strong ties with three major global powers: India, China, and the United States.
Remarkably, during his visits to New Delhi and Beijing, Dahal deftly steered clear of contentious issues that had historically strained relationships. Instead, he pivoted towards economic collaboration and development partnerships. In India, topics like the Eminent Persons Group (EPG) report, border disputes and Agnipath Scheme were set aside. Similarly, in Beijing, projects under the Belt and Road Initiative (BRI), China's new map, Global Security Initiative, and Global Civilizational Initiative were put on the back burner.
Dahal's strategic focus on development and cooperation was evident. He sought support from all three global powers to expedite Nepal's transitional justice process—a top priority for his government. The international community, particularly Western nations led by the United States, has been urging Nepal to conclude this process promptly.
At the United Nations General Assembly, Dahal highlighted Nepal's transformation from an era of armed conflict to an inclusive and nationally driven peace process over the past 15 years. He made it abundantly clear that transitional justice was the linchpin of his administration's agenda, appealing to the world for support.
However, India and China have not laid out their positions regarding Nepal's transitional justice process, though New Delhi briefly raised this issue in the UN Human Rights Council in 2015. International community and the UN are concerned mainly on the issue of serious human rights violations on which they believe there should not be blanket amnesty.
Dahal's Beijing trip was mainly focused on the development and security fronts. While concrete progress on the Belt and Road Initiative remained elusive, Dahal assured senior Chinese leaders of Nepal's commitment to their core interests, including acknowledging the One-China principle and firmly opposing Taiwan independence and Tibet independence movement.
With an ever growing geopolitical tension between China and the Western world, Beijing is more concerned about its security interests in Kathmandu than ever. As security gained prominence, China sought bilateral legal treaties with Nepal, including a Mutual Legal Treaty and Extradition Treaty, although Nepal remained non-committal.
The implementation of the Belt and Road Initiative remained a focal point for Beijing. Despite seven years since the initial agreement, the two countries are still working to finalize its implementation plan, with some provisions, particularly those related to security, causing contention. The Global Security Initiative (GSI) and Global Civilizational Initiative (GCI), on which China is seeking Nepal's endorsement, also remain the topics of debate. However, Nepal showed support for the Global Development Initiative (GDI), as it is implemented through UN agencies and doesn't raise security concerns.
In the realm of energy cooperation, Dahal's visit to China achieved modest progress. Both countries agreed to enhance cooperation in energy, particularly in hydropower development and cross-border transmission lines. They also announced plans to construct a 220 KV cross-border power transmission line.
Before his visit to China, Dahal had expressed a desire to strike a power trade deal, but the necessary infrastructure is yet to be built. Of late, China has been expressing its concerns regarding India's "monopoly" in Nepal's hydropower sector, where the interests of India, China, and the United States collide.
During Dahal's visit to New Delhi, a significant development unfolded, with the Indian cabinet deciding to purchase 10,000 MW of electricity from Nepal, creating opportunities for regional energy trade and development. But India's policy bars Chinese companies from selling the power in the Indian market.
In his dealings with the United States, Dahal maintained a cautious approach. He refrained from engaging with the State Partnership Program and Indo-Pacific Strategy, instead focusing on the implementation of the Millennium Challenge Corporation (MCC) agreement. The MCC, which came into effect in August with a five-year deadline, encountered hurdles, but Dahal was committed to resolving them. The declarative interpretation, a component of the MCC's parliamentary approval, remains a point of concern.
The United States, on its part, demonstrated a commitment to expanding its engagement with Nepal through increased development assistance. The USAID pledged $2m to support Nepal's economic stabilization, job creation, investment mobilization, and democratic progress. Earlier USAID had decided to provide a $6.9m budget for the next five years. The new support was announced during the USAID's Democracy Delivers event on the sidelines of the UN General Assembly in the presence of US Secretary of State Antony Blinken and USAID Administrator Samantha Power.
Strengthening democracy and combating corruption in Nepal were top priorities for the United States, while Dahal's objective is seeking Washington's support to conclude Nepal's transitional justice.
Above all, Dahal's key diplomatic priority is to maintain cordial relations with New Delhi to secure his political standing. Hence, he approached his visit to Beijing cautiously, not wanting to upset India by signing deals on BRI, energy trade and other issues. Of late, Dahal has also maintained a good relationship with India's ruling Bharatiya Janata Party.
Graduation from Least Developed Country (LDC) to Middle-Income Country (MIC) status is another pressing issue on Nepal's international agenda. Nepal sought support from the international community to finalize its LDC graduation strategy, raising this matter during discussions in Beijing, New Delhi, and the United Nations General Assembly. In his address to the UN assembly Dahal affirmed Nepal's commitment to a smooth, sustainable, and irreversible transition to MIC status by 2026.
Nepal's key international agenda
Transitional justice: Government has tabled a bill related to transitional justice and seeking the support of the international community to conclude the process.
PM Dahal is of the view that the new bill addresses the concerns of the victims, strike a right balance between peace, justice and reparation, and to make the transitional justice process broadly owned by the society. Considering the concerns of the international community, PM Dahal has said that there would not be blanket amnesty.
LDC graduation: Nepal is graduating from LDC status by 2025 and expressing commitment with the international community to make the graduation smooth, sustainable and irreversible. Nepal is in the process of finalizing the smooth transition strategy of graduation. Nepal is seeking international support in this process.
Climate Change: Climate Change has emerged as one of the major agenda of Nepal's foreign policy conduct. Addressing the UN assembly, PM said : Climate vulnerable mountainous countries like Nepal have been bearing the severe brunt of climate change. The Himalayas are the source of freshwater for over two billion people. Global warming has induced rapid receding of ice in our Himalayas, Dahal said, It has not only eroded the health of our mountains but also endangered the lives and livelihoods of millions of people living downstream.