Shrawan prayer at Pashupatinath
In Hinduism, the month of Shrawan which is the fourth month of the Hindu calendar holds special significance as it's dedicated to Lord Shiva. Devotees observe fasting, offer prayers, and visit temples during this month to seek blessings and show their devotion. It's believed that prayers and offerings made during Shrawan are especially auspicious and can lead to the fulfillment of one's wishes.
The mondays of Shrawan, known as 'Shrawan Somvar,' are particularly important for Shiva worship. People often adorn themselves with holy ash and offer water, milk, and other offerings to Lord Shiva during this month.
The Pashupati Arati is a daily ritual that takes place at the Pashupatinath Temple in Kathmandu, Nepal. It's a significant religious ceremony held in honor of Lord Pashupatinath.
In Shrawan, every evening, the temple complex comes alive with the mesmerizing Pashupati Arati. Thousands of devotees gather to witness the sacred ritual where oil lamps are lit, accompanied by chanting, prayers, and the ringing of bells. The Arati is performed by the temple priests, and it's believed that participating in or witnessing this ritual during Shrawan is especially auspicious.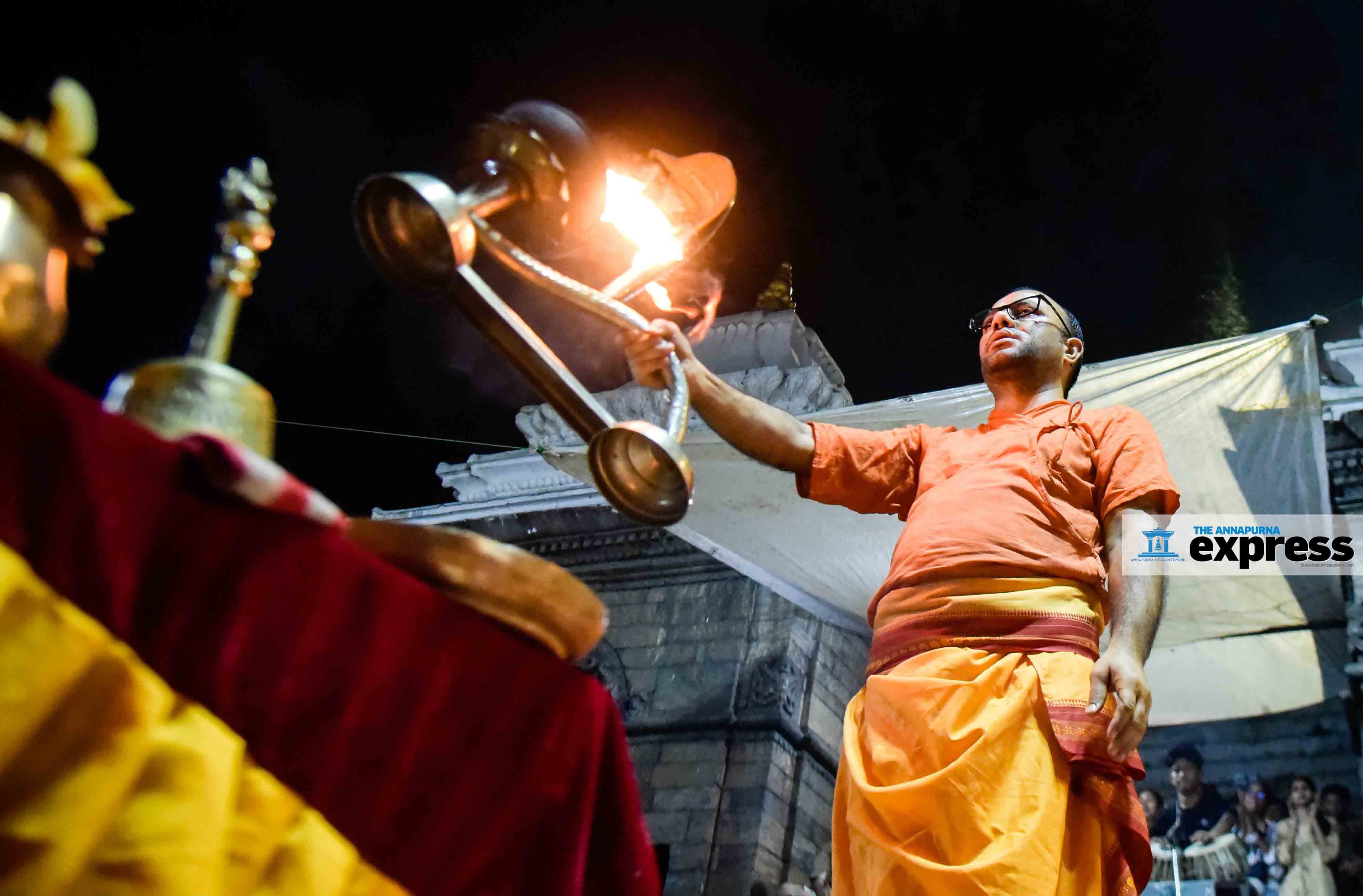 There are many legends and myths associated with the significance of the month of Shrawan. One of the popular myths is that the daughter of Dakch, Sati Devi sacrificed her life and was reborn as Parvati, the daughter of the Himalayan king. She wanted to marry Lord Shiva and went through tough fasting for the whole month. Pleased by the devotion of Parvati, Shiva fulfilled her wish. This is why women wear green clothes and fast in this month believing they will get a husband like Shiva.
Another mythological story is the churning of the ocean (Samudra Manthan) by the Devas (gods) and Asuras (demons) to obtain the nectar of immortality (Amrit). During this churning, various divine gifts emerged from the ocean, including poison. To prevent the poison from spreading and harming the universe, Lord Shiva drank the poison. As a result, his throat turned blue, earning him the name 'Neelkantha' (the blue-throated one). In commemoration of this event, devotees offer prayers to Lord Shiva during the month of Shrawan.