Editorial: End House obstruction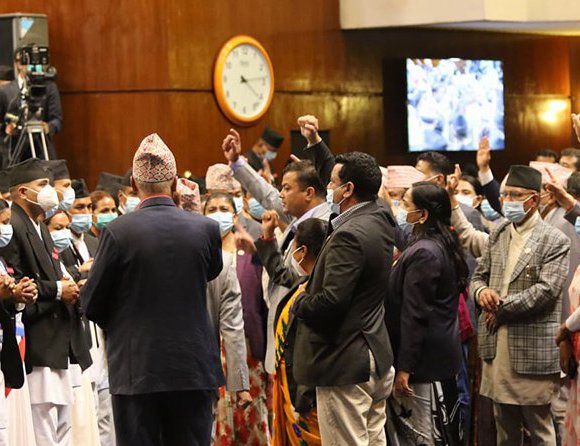 The main opposition CPN-UML's continued obstruction of the federal lower house is unseemly. UML has been holding the house hostage since September, accusing Speaker Agni Sapkota of bias. UML has been demanding that Sapkota take action against its 14 renegade MPs who split to form CPN (Unified Socialist)—or resign. But Sapkota refused to do so after the Election Commission registered the new party, thus validating the split. Moreover, the case is sub judice in the Supreme Court.
Surely, UML lawmakers are aware that the house cannot take up a sub judice case. But that is a technical matter. More importantly, as representatives of one of the two oldest running democratic parties in the country, it is hard to believe they don't understand the parliament's sanctity. That disrupting this place for deliberation of vital national issues for months on end hampers governance and slows development works.
UML Chairman KP Sharma Oli is smarting from his ouster as prime minister back in July, when the Supreme Court invalidated his decision to dissolve parliament and ruled that Nepali Congress President Sher Bahadur Deuba takes his place as prime minister. He wants to exact revenge on the ex-UML MPs whose support now underpins the Deuba government. It is sad to see a national leader of his stature get so petty, and impede deliberations in 'people's chamber' for what is a personal agenda.
Also read: Editorial: What to expect of Deuba?
Oli says he wants elections at the earliest and voters will vindicate his decision to dissolve the house and call for a fresh vote. If so, why are he and his party so hung up on settling personal scores through the parliament? Why don't they rather help the government clear all hurdles to timely polls? The federal government, after all, is bound to hold all three levels of election within a year.
This suggests Oli is unsure of his electoral prospects. Or he would not try so desperately to besmirch the image of his opponents to make himself look good. To reclaim power, Oli and his party should be busy finalizing their electoral agenda rather than resorting to such undemocratic shenanigans.