What will it take to end child marriage?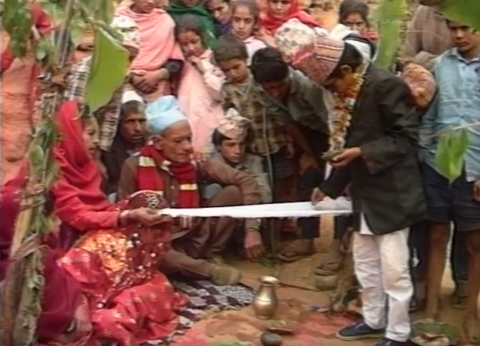 Nepal has vowed to end child marriage by 2030 as part of its Sustainable Development Goal pledge. But there are many young girls who are getting married early, be it forcefully or by choice. Nepal has solid laws against child marriage in place. But the government has failed to implement them effectively. "There aren't proper and targeted legal mechanisms to prevent early marriages," says Bandana Sinha, human and gender rights activist. "Law alone isn't enough. The government also needs to focus on tackling issues surrounding the problem, such as poverty and dowry," she adds. For this, she says, the country needs a legal mechanism that can reach out to every local community. Mohna Ansari, former commissioner at National Women Commission (NWC), says that the government officials responsible for implementing the laws are also a part of the problem. They still aren't willing to accept child marriage is a heinous crime. "Every now and then, you come across news stories where police officers and local government officials themselves are attending wedding events where the bride and groom are minors," says Ansari, "How do we expect the laws to be implemented when the people in authority themselves are endorsing this bad practice?"
She suggests pressing legal charges against law enforcement officers and people in positions of power who fail to stop child marriage taking place before their eyes. "Law should be the same for everyone. Even people in power and position need to abide by them," she says.
Rambahadur Chand, information officer at National Child Rights Council (NCRC), doesn't agree that the government is falling short when it comes to taking actions to prevent and stop underage marriage. "The government is doing its part," he claims, "We have been running awareness programs, and coordinating with local governments to end child marriage." He says there should be collaborative effort between the authorities and the locals. Many parents and guardians simply ignore the request of anti-child marriage campaigners and government officials. "It is their [parents] primary responsibility to worry about the children's future. Government's effort alone isn't going to be enough if we are to end child marriage in Nepal," he adds. A lot of children who marry early are either poor, lack education, or come from broken families. Sabitra Dhakal, human rights activist, says the solution starts with educating the parents and creating a society where children aren't seen as economic burdens. "Nepal still needs to put in a lot of effort, from launching an effective awareness campaign to raising the socioeconomic standard of its people," she says. She believes that proliferation of social media is also partly responsible for children marrying at a young age. As teenagers are easily influenced by the lives of others, Dhakal says, it's common for them to seek independence from their parents. This is particularly true if they come from a poor family background. "Besides educating parents, we also need to teach our children on how to safely use social media," she adds. "Our children must know and understand the consequences of child marriage." Early marriage is still endorsed in various parts of Nepal. In some communities, it's a part of their tradition and, for them, culture trumps the law. Rights activists say the government isn't doing enough to educate the communities where child marriage is still prevalent. They say there should be a comprehensive government action plan that includes both adults and children, and it all boils down to changing the perception of our society towards child marriage. Ruby Khan, women rights activist, says that the dowry system has played a major role in increasing number of child marriage in the Tarai belt of Nepal. Unfortunately, she says, local governments aren't giving enough attention to this issue. "Even though the dowry system has been made illegal, people are still practicing it. Child marriage is prevalent in many parts of Nepal because parents think marrying their daughters off early will cost them less dowry," says Khan. "We have the culture of enacting progressive laws and not implementing them." Though the government has conducted several programs solely dedicated to making people aware about ill practices like early marriage and the dowry system, they haven't produced the desired results. Chamila Bhattarai, spokesperson for NWC, says it's hard for people to let go of something that they consider part of their culture and identity. "There have been some changes, but not a lot. The government needs to put in more effort and it will take some time," she adds. Rights activist Sinha says that awareness programs should also target individuals who have already fallen victim to child marriage. "Or else, the cycle will continue to repeat. We need a program for young parents as well. They need to be taught how to give proper care to their children," she says. There are also many young mothers who are raising their children alone. This is where education and vocational training could play an important role. Rights activists say the government should push young couples to take formal or informal education even after getting married and having children of their own. "It's important to rescue them before they fall into a poverty trap, ruining their own lives and that of their children," says Dhakal, "Education is the first step to empowerment." She further mentions that in the case of married adolescents, there should be a program to teach them about safe sex, use of contraceptives, and health complications related to early pregnancy. While the government, in coordination with various non-governmental organizations, is working on providing vocational training in many parts of Nepal, not everyone has access to it. Sapana Shrestha, program coordinator of SAATHI, a non-governmental organization working to protect women's rights, says many young women are unable to attend these training programs because of family issues and responsibilities. "Most of the time, young mothers don't have anyone to look after their children," she says, "They tell us they would be happy to attend these training sessions if we could provide a caretaker for their children." Shrestha believes that in order to make vocational training more fruitful, it's also important to find a way to look after the children of young mothers while they learn some skills. "We have to consider the young mothers but there is also the needs of the children to look into when planning for these training, which isn't happening at the moment," she says. For this, the government needs to provide a sufficient budget to train and educate young mothers, as well as to provide them with seed money to start their own businesses. However, most of these programs are underfunded. There are some success stories where young mothers have become financially independent and have been able to build a better life for their children. But there is still a need to replicate these success stories at a bigger scale. "With more investment and effort from the governmental as well as non-governmental organizations, we can turn things around," says Shrestha.