Prominent youth leaders rally for change within NC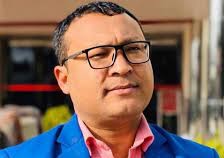 The ruling Nepali Congress is going through a challenging phase. Youth leaders in the party strongly believe that the NC needs a comprehensive overhaul. But the top leaders, who hold positions either in the government or at the helm of the party, think everything is fine, offering youth leaders little hope that the current leadership will take steps to reform the party. This loss of faith has led a group of youth leaders to launch what they call the "NC Reformation Campaign". Interestingly, this campaign does not include popular youth leaders Gagan Kumar Thapa and Bishwa Prakash Sharma.
Bhupendra Jung Shahi, a prominent figure of this campaign, expresses confidence that despite the emergence of new political forces such as the Rastriya Swatantra Party and the growing public disenchantment toward the NC, the campaign can restore the party's former glory.
Shahi believes that parties like RSP wouldn't have formed had the old parties addressed the concerns of the public. "It was out of frustration and disappointment that people decided to vote for new parties like the RSP," says Shahi, who thinks that their campaign can turn the tide. If the NC leaders start working for the benefit of the people, he says the party can have a bright future. Shahi is of the view that unlike the RSP, the Nepali Congress has experience, vision, and  strong party structure. Joining Shahi in the campaign are leaders such as Madhu Acharya, Gururaj Ghimire, Govinda Pokhrel, and Ranjit Karna. "We plan to reach every district and village, and address the problems faced by locals, while simultaneously revitalizing our party structures," says Shahi. To restore the party's former glory, Shahi suggests that politicians must refrain from portraying themselves as masters and the people as servants. He acknowledges that people's anger toward major political parties is understandable, as politicians often prioritized their own self-interests over serving the public. "True democracy entails empowering the people and avoiding dictatorial tendencies," says Shahi. The need for a reform in the NC stems from their inability to effectively function and comprehend the desires and needs of the public. Shahi says the existing gap between the party's leaders and its members, as well as the disconnect between political parties and the general public, will inevitably lead to future problems. "To avoid that situation, we are initiating campaigns to implement the essential changes and reforms within the party." Shahi says the primary focus of the campaign is to implement reforms and enhance the strength of the party while also winning public support. "We need to create a political party that stands by the public in all circumstances and remains attuned to the realities of their lives," he says.  "The goal is to build a party that uplifts the citizens and strives to alleviate their struggles." Highlighting issues such as youth unemployment, the lack of safety for women, the unavailability of necessary resources for farmers, and the inadequate access to educational materials for students, Shahi notes that the current state of the country leaves no one truly content. "We need a party that understands the emotions and concerns of the public and is dedicated to promptly addressing these issues," he says. "The party should prioritize the happiness and satisfaction of the public rather than being solely focused on the advancement of their own members within the party hierarchy."