My India visit focuses on economic development, prosperity: PM Dahal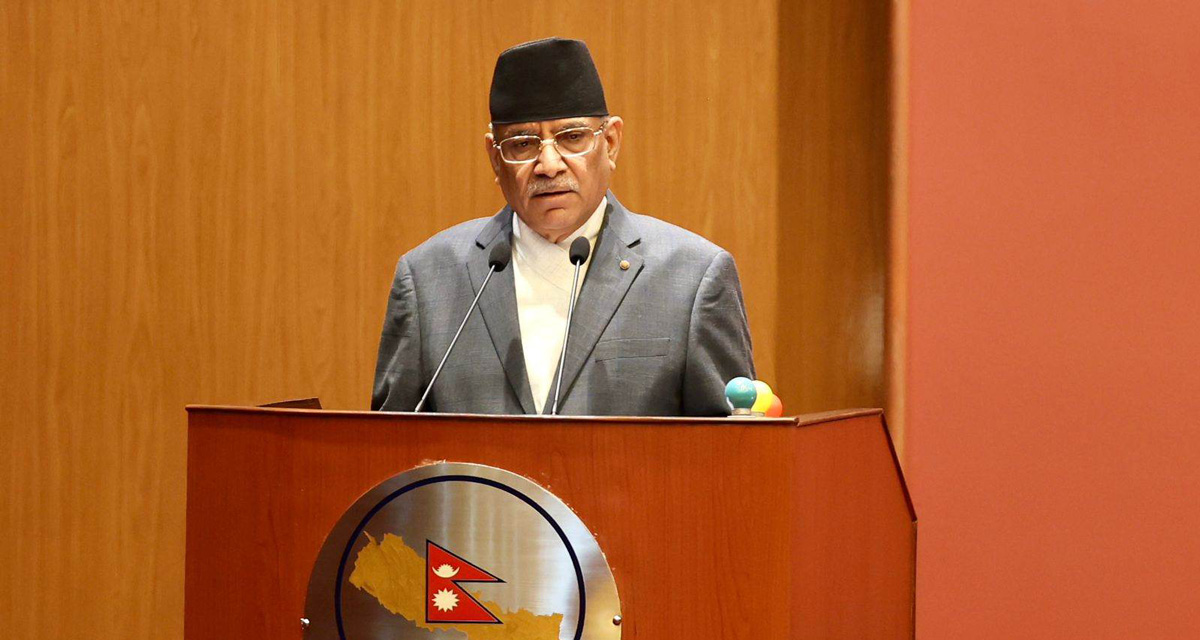 Prime Minister Pushpa Kamal Dahal has said his recent India visit was focused on economic development and prosperity. Speaking at a National Assembly meeting on Wednesday, Prime Minister Dahal said that his India visit became successful to build mutual trust between the two countries and put economic development in center. The visit was specially focused on power trade, agriculture, dry port and transit, he said, adding that his meeting with Indian counterpart Narendra Modi was significant.
PM Dahal further said that discussion on the issue for the permission for additional air entry-route with India moved ahead in a significant and positive way during the visit.
"An agreement has been reached for power trade with Bangladesh via Indian territory. Indian Prime Minister Modi has said India will import 10,000 MW electricity in next 10 years. It has created an environment to export power produced from different hydropower projects including Upper Tamakoshi", he said. The Prime Minister added that market of electricity produced from hydropower projects has been guaranteed and it has paved way for further investment in country's energy sector, as well as understanding has been made to complete detailed project report of Pancheshwor Project within three months and to determine implementation model within a year. He said that the prime ministers of both countries directed the concerned authorities to control flood and inundation at bordering areas. Discussion was held with the Indian side on issues like construction of motorable and suspension bridges at Jhulaghat, Purnagiri as well as other places, mentioned PM Dahal. Citing that significant talks were held between the two sides for agricultural productivity and this remained as another achievement of the visit, the Prime Minister said a positive atmosphere has been built for establishing a chemical fertilizer factory in Nepal. He said matters relating to trade facilitation, reduction of trade deficit between the two countries and the removal of additional tax on jute imports were discussed during the meeting. He briefed the House that Indian Prime Minister Modi in a joint press meet pledged to resolve Nepal-India border disputes. He went on to say that there was a bilateral agreement during the visit to accelerate the under construction trans-border railway project and to operate projects which are already completed. During the visit, Nepal and India observed the inauguration of the Integrated Customs Point in Nepalgunj which was established with economic and technical assistance from the government of India. Furthermore, the groundbreaking of the integrated customs points at Sunauli and the agreement to extend the Motihari-Amlekhgunj petroleum pipeline up to Lothar were the outcomes of the visit to the southern neighbor, according to the Prime Minister. Likewise, the groundbreaking ceremony of New Butwal Gorakhpur 400-KV transmission line took place during the visit. Moreover, the visit is marked by the signings and exchanges of other seven significant agreements.  "The Trade and Transport Treaty incorporates some provisions that hold long-term importance," he said. An agreement has been made for transporting block cargo and an environment has been built for using various waterways of India from this, the PM viewed. Stating that a climate for construction of a dry port at Dodhara Chandani has been made, he said discussions have also been held on promoting industrialization by facilitating the operation of the special economic zone to be constructed in the coming days. According to the Prime Minister, understanding has also been reached during the India visit to take forward the construction of Phukot Karnali Hydro Electricity Project by forming a joint consortium with Indian company as well as for the construction of the 679- Megawatt Lower Arun Hydro Power Project. Similarly, he informed the upper house of the Federal Parliament that an agreement has been reached between the two countries on an inter-country electronic payment system. Noting that the Indian industrialists and investors have been urged to invest in Nepal, PM Dahal said the interaction between the Nepali and Indian industrialists and businesspersons was significant in itself. He stated that the progress made by Indore city in Madhya Pradesh of India in waste management could be learning for Nepal as well. PM Dahal said during the visit he also extended an invitation to Indian Prime Minister Narendra Modi to visit Nepal. He reiterated that his four-day official visit to India has helped create a climate of confidence between the two countries and its results would be seen in the coming days. PM Dahal had visited India from May 31 to June 3.